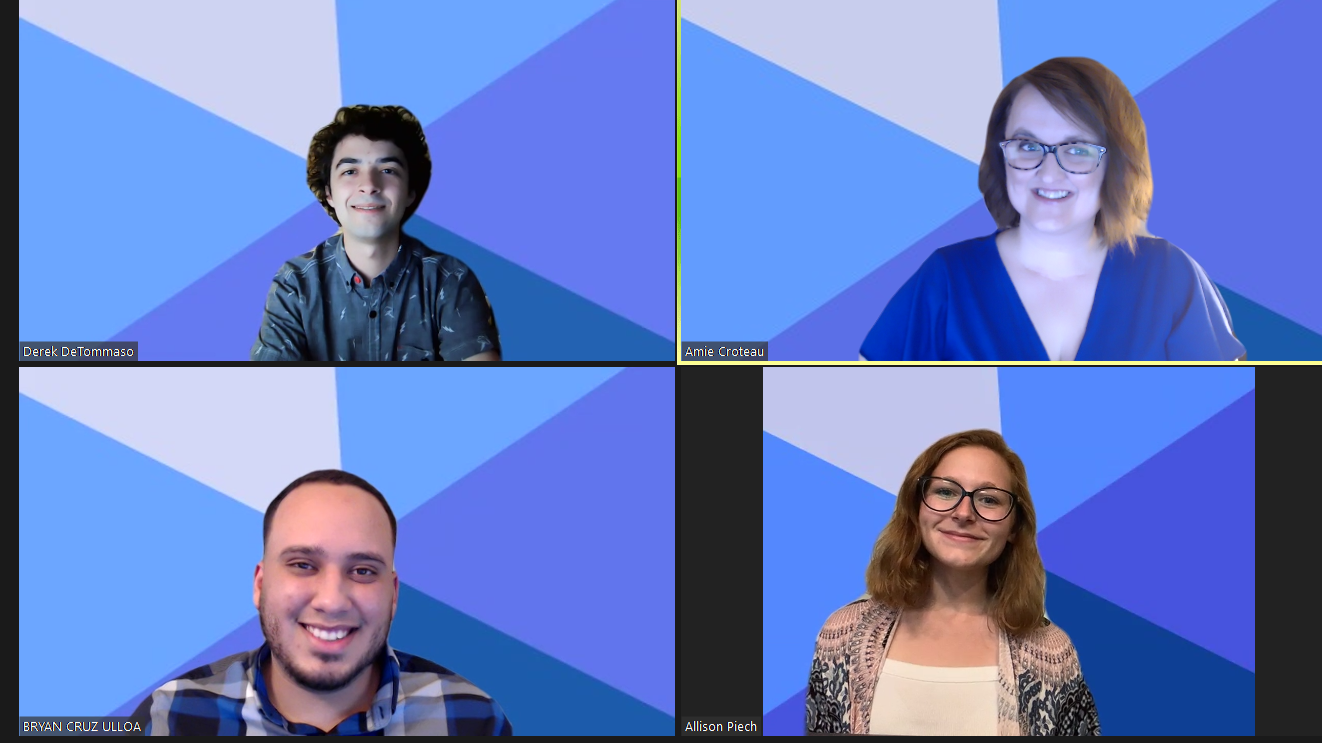 Aidly is an application designed primarily for college-aged students who want to volunteer for nonprofit organizations. I am a part of the team that created the app along with Amie Croteau, Bryan Cruz Ulloa, and Derek DeTommaso from Penn State Berks. We were advised by Abdullah Konak, professor of IST, and Yuan Xue, assistant professor of IST. The primary goal of the application is to create valuable relationships between nonprofit organizations and volunteers. The application also assists nonprofits in management of their volunteers.
Amie and Bryan participated in the 2019 Nittany AI Challenge and were successful through each phase. When they heard the prompt for the 2020 Nittany AI Challenge, Amie and Bryan couldn't stop thinking about nonprofits. They soon reached out to me and Derek in hopes of building a well-rounded team to be successful again this year.
The main influence of this endeavor was personal experience. Amie spent her sophomore year as a web-development intern for Big Brothers Big Sisters of Berks County. Prior to that, she spent several years managing volunteers with a children's church, Girl Scout troop, and Boy Scout troop. She saw firsthand how nonprofit organizations are in need of volunteers and easy-to-use tools to manage them.
Bryan spent some time volunteering during high school and college with an organization called Code 4 Puerto Rico, whose mission was to create civic applications for the people of Puerto Rico. Contacting, scheduling, and keeping volunteers engaged was a constant juggling act.
Derek and I have faced some of the same struggles.
I spent numerous hours searching for a volunteer opportunity that matched my interests and knew there had to be an easier way. I formed a group called Cyber Lions at Penn State Berks to help educate senior citizens in the community about cybersecurity. The process of recruiting volunteers for the group was a daunting task.
Derek served as overall chair for Berks Benefitting THON and has seen the difficulty of organizing and managing volunteer opportunities for students. Planning one weekend of volunteering would require multiple forms, spreadsheets, and documents. He saw the creation of Aidly as a new alternative to managing volunteers.
Aidly is designed to provide an intuitive and simplified way to manage volunteers and track their good deeds. Prospective volunteers enter their zip code, interests, expertise, availability, and a short biography. Aidly provides a list of nonprofit matches pulled from a database of organizations in their area. We utilized the NLTK and Sci-kit Learn packages in Python to prepare the data and calculate Term Frequency-Inverse Document Frequency (TF-IDF) and Named-Entity Recognition (NER). Aidly will make volunteering recommendations to individual users and/or teams of users by using a content-based filtering recommender system. As users respond to these recommendations, Aidly will learn users' interests and update their profiles accordingly.
Aidly will also provide the ability to share specific volunteer opportunities with others and have a built-in suggestive volunteer buddy feature called Friends. In this process, Aidly calculates user-to-user similarity scores and uses clustering algorithms to make team recommendations.
The application will not only help students find engaging volunteer experiences, but also help nonprofits manage volunteers efficiently and inexpensively. Nonprofit organizations will also be able to manage volunteers from this dashboard including assigning tasks, contacting them, and managing schedules.