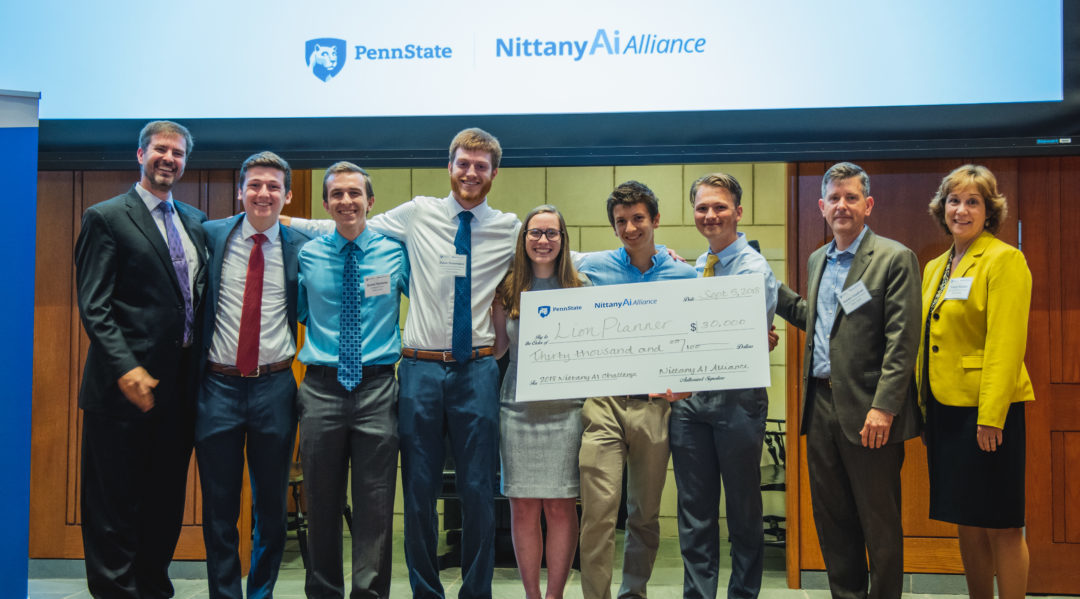 I have been involved with the Nittany AI Challenge for several years. The common thread that runs through each experience is the student who uses their talent, knowledge, teamwork and newly found skills to overcome every obstacle and leave us in awe of their work. Each student team that competes in the Challenge is tasked to work with AI to develop a solution to a real-world problem. Their end goal is to create a product that will not only help them to stand out but also light the path for a future generation of students. The teams represented in this article have been selected to share their Challenge experiences at President Barron's Tailgate. They are a sample of the student teams who exemplify excellence and come from a variety of colleges within the University, including the College of Arts and Architecture and the College of Information Sciences and Technology, as well as Commonwealth Campuses including Penn State Berks, Harrisburg, and University Park.
Christina Warren and Matthew Mancini teamed up twice to create a minimum viable product (MVP) for the Nittany AI Challenge. In 2018, they — along with Benjamin Proto, Quinn Verbeke, Dylan Shoemaker, and Michael Roos — created LionPlanner. The mission of the LionPlanner application is to automate course planning by using natural language processing to identify courses for students based on their interests and degree requirements. The tool can then export the results and assist advisers through the next steps of academic planning.
The LionPlanner team was one of the finalists for 2018 and was awarded $30,000 from the Nittany AI Alliance to further develop their solution. Members of the team are currently working with Penn State Admissions to use LionPlanner's semester-by-semester planning capabilities in accompaniment with existing systems.
Christina and Matthew teamed up a second time for the 2019 Nittany AI Challenge and created Revu, a product that automatically generates multiple-choice quizzes from readings to help teachers encourage their students to complete out-of-class reading assignments. Every question, answer, and distractor is editable, and teachers are also able to add their own questions to accompany the recall-based questions Revu generates. Quizzes can be shared with students via a unique link, and teachers can then easily monitor which students took their quiz and see where they struggled with answers. As a finalist, the team was awarded $15,000 from the Nittany AI Alliance to continue developing this solution.
In 2018, the Aspire team set out to help Penn State students navigate their future career path. Isabelle Biase, Shane Hepner, and Tyler Spagnolo used IBM Watson Knowledge Studio to create the Aspire tool. As a finalist, the team was awarded $10,000 from the Nittany AI Alliance to continue working on the solution. They went on to enroll in the FastTrack Accelerator program at Happy Valley LaunchBox where they gained entrepreneurial experience and learned what it takes to turn an idea into a startup.
Isabelle and Shane are currently participating in the Nittany AI Associates program. They are using the skills they developed during the Nittany AI Challenge to work on a project for Penn State Development and Alumni Relations. Isabelle shared with me that all three of them also completed software engineering internships this past summer and the soft skills and technical skills they gained through participating in the Challenge helped them to succeed.
LionPlanner, Revu, and Aspire are examples of the many student teams who compete in the Nittany AI Challenge. These students bring their unique perspectives and talents to the table to navigate opportunities and complement one another's abilities and experience levels to work with top level sponsors and AI companies such as Oracle, Google, Amazon, and Microsoft. The teams that are funded through to the final phase of the Challenge not only create an MVP but must present it with buy-in appeal to a panel of AI experts and educators. These students are not just completing another assignment. They are driving it home.
If you are a student interested in participating in the 2020 Nittany AI Challenge, you can subscribe to receive updates.
If you would like to get involved or financially support the 2020 Nittany AI Challenge, contact Daren Coudriet, director for the Nittany AI Alliance, at 814-865-0172.