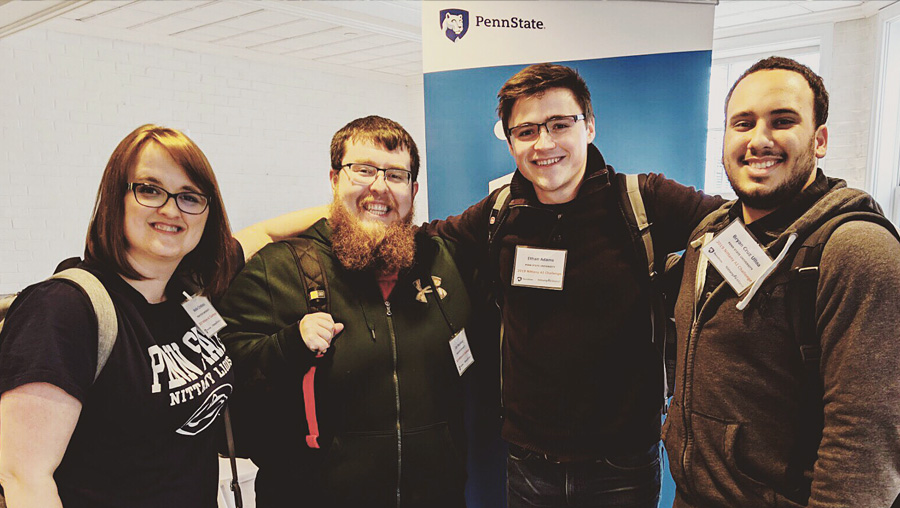 My entire 2019 had a common thread woven through it: the Nittany AI Challenge. Participating in this Challenge with my team, Resilient Resumes, has brought so many highlights to my year — proposal submission, prototype selection, creating the prototype video, and laughing endlessly with my team on conference calls. But how did I, a nontraditional Penn State Berks junior, become a member of a top ten team in the Nittany AI Challenge? My data professor sent out an email, and even though I knew very little about AI, I wanted to jump in. I met with Dr. Abdullah Konak, professor of information sciences and technology at Penn State Berks, and we started working on an idea and began growing a group of students.
I had no idea at the time how close we would work and become. The experience of motivating not just myself, but my five teammates to continue development and really aim high has been one of the best parts of this experience. The Challenge set up parameters that allowed us to really choose how we wanted to develop, while the required steps helped us turn our ideas into somewhat of a reality. During the development process, I learned what is required to work as a team. In addition to the obvious things — time management and communication — I learned the not so obvious things: I discovered what really makes up each team member and what motivates them to stay involved in this project. Not a single time did a member miss our weekly meetings without notification, and no one has missed a final deadline thus far.
As Commonwealth campus students from Penn State Berks, we ventured onto the University Park campus for presentation day. I remembered the awe I felt coming from our campus and how we seemed like a few blue fish out of water (we coordinated in navy suits that day). Yet, we felt as prepared and supported as the other teams. Thanks to the support of the Nittany AI Alliance and our wonderful advisers, we received guidance and support to help us reach the prototype stage and continue on to MVP development.
Participating in this Challenge has allowed me to not only speculate about my future but actualize it. The skills I utilized weekly, and sometimes daily — through my own contributions to our product and working with my team to push the project forward — gave me tangible proof that I am a worthwhile investment and can make considerable contributions to an employer. This Challenge allowed me to network in ways I never thought possible such as one-on-one chances to speak with employers from Google, Oracle, Microsoft, and many others. 
The day after the prototype presentations, I was lucky enough to be selected for an interview for hiring in May 2020. The interview was an all-day process and I spoke to several hiring managers. It was for a software engineering position, so the typical questions came up about languages, object-oriented programming, etc. Yet, other questions were asked about challenges that arose and if I aspired to move beyond development into software management. By participating in the Nittany AI Challenge, I had very timely content to present that expressed my confidence and capabilities. In fact, before the last interview, on which I received my best feedback, I found out our team made it to the top ten. Because of this, I was able to enter that interview with even more confidence and pride in what my team and I accomplished in three months.
In retrospect, I realize it wasn't just my involvement I was most proud of; I was extremely proud of the camaraderie I built with my team. Week in and week out we met, unsure of how we were going to accomplish this daunting task, and yet we continued to meet the expectations. Participating in the Nittany AI Challenge is a daunting but rewarding experience and not just for computer students — but all students — as it develops the technical, business, and networking skills needed to progress in the workforce.