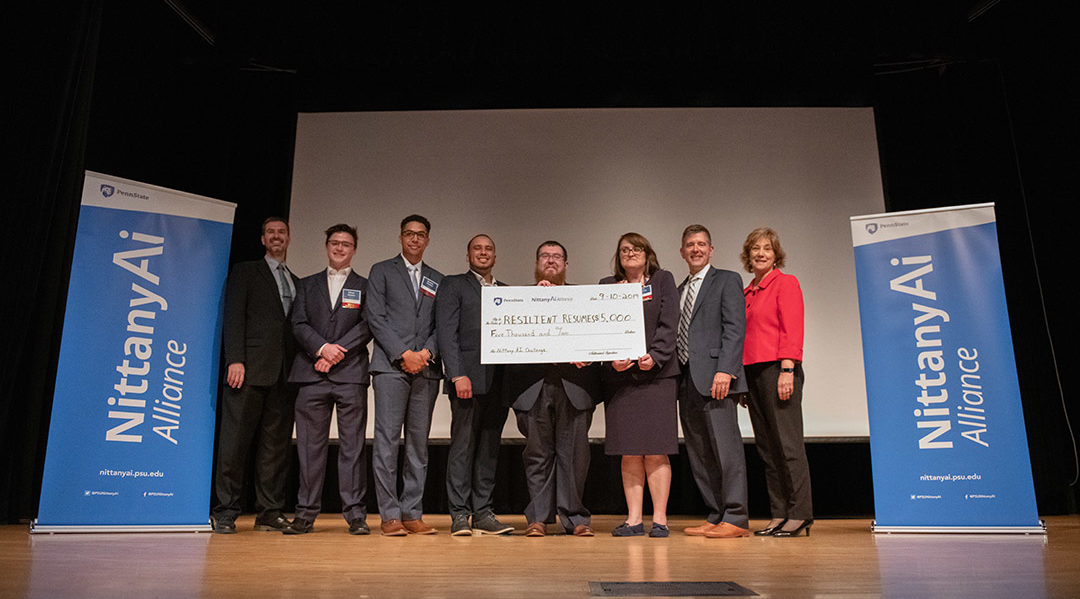 In the past eight months, Dr. Yuan Xue and I have had the privilege of advising the Resilient Resumes team, one of the teams selected to present their MVP in the Nittany AI Challenge 2019.  Competing in the Nittany AI Challenge has been truly transformative for the members of the Resilient Resumes team and advising them throughout this journey reminded me one more time that we need to do more outside of the classroom to educate innovators of the future. 
When I first met Amie Croteau, a Penn Berks IST student and the leader of Resilient Resumes, to brainstorm about ideas for participating in the Nittany AI Challenge, she had one goal in her mind: "We need to help these students get jobs and internships," she explained. Like many of our nontraditional students, Amie is a highly motivated student but also a little concerned about the prospects of finding a good job to start her professional career.
Amie had the idea of creating a resume recommendation system, but she had a little problem — no other student had shown interest yet.  First, Bryan Cruz Ulloa — a Computer Science student at Penn State Harrisburg — joined the team. Brain and Amie, who attended the Reading Community College together, have solid web development experience, but they looked for team members with some experience in Artificial Intelligence (AI). Shortly after, Ian Morrissey and Ethan Adams, both IST & SRA dual majors at Penn State Berks, joined the team to learn more about AI. Austin Tucker, also an IST & SRA first-year student who wished to engage in undergraduate research, became a team member late in the spring semester after observing several team meetings. 
After several meetings, we sketched the conceptual model of the Resilient Resume. The tasks were easy! The team was going to use a NoSQL database for storing resumes as JSON files, develop a web-based application and integrate with the NoSQL database, use natural language processing technologies for parsing the data out of stored resumes, collect and analyze data, train/test machine learning algorithms in Python for resume recommendations, and interface the machine learning models with the web application. The team had a small problem: none of them had the knowledge, skills, and experience to achieve any of these tasks, only web development.
We, the faculty, somehow like to complain about our students' lack of motivation for learning; but here we have a team of undergraduate students who first plan to learn a set of technologies and skills that may be covered in a good part of a postgraduate curriculum and then implement them in a functional product less than a year. 
After several fun design meetings, the reality of the challenges in integrating so many different technologies became apparent. How was the team going to attain those objectives with their limited experience? The breakthrough came out after the Nittany AI Immersion Day. We traveled to University Park to learn about what industry leaders Google, Microsoft, and Oracle have to offer. As a faculty member, I thought that the levels of tutorials were quite high for undergraduate students. To my surprise, the team got energized as they realized that they could leverage the existing cloud-based AI technologies to achieve their objectives. Hence, they set their minds to learning more about Microsoft's Azure Cloud Computing Platform & Services, especially Azure AI tools.
The summer came rather quickly. The team had a different set of changes. I was visiting the Chinese University of Hong Kong during the summer, Dr. Xue was in China, and all team members had full-time internships or jobs. But they kept regular Zoom meeting on Monday nights. Family obligations, the demands of full-time jobs, and the time-zone differences did not deter them. The data collection was done in June, the analysis of the data and refinement of the web application were mostly completed in July, and the AI models were trained in early August. Finally, the AI models and the web application were integrated by the mid-August. All these were done without having a single face-to-face meeting. I was really impressed by the team's conscientiousness and resourcefulness. The team members always stood up for one another when one could not complete a task.  
When I look at how much the team achieved in the past eight months, I cannot stop myself from asking what motivates our students, who sometimes drag their feet in the classroom, to work so hard for achieving an ambitious goal? They mastered not only technical skills, but also the skills necessary to be effective at collaboration, communication, and organizational skills throughout this process. I think that the secret formula is encoded in the DNA of the Nittany AI Challenge: an engaging project can make a real-life impact — the opportunity to quickly test what is learned, high standards that push students beyond their comfort-zones, but where they can also find a safe place to fail without the concern of a bad grade, along with the feeling of being a member of a supportive learning community and open interactions with faculty, staff, industry experts, and other students.  
I particularly like how the Nittany AI Challenge emphasizes a customer-oriented solution rather than a pure technology-driven one. This aspect and continuous feedback from the Nittany AI Challenge team force our students to think creatively and develop empathy for the system user. These two skills are the key to designing innovative products and systems that work for people. Thanks to the Nittany AI Challenge for providing such a great experiential learning opportunity for instilling the spirit of innovation into our students.