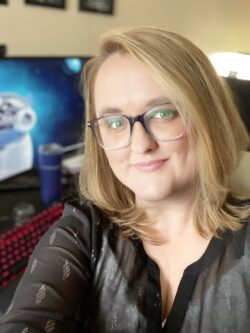 During her junior year at Penn State Berks, Amie Croteau heard about the Nittany AI Challenge from one of her professors, Dr. Abdullah Konak, who was looking to mentor a team. Wanting to experience more campus life and practice what she was learning in the classroom, Croteau jumped at the opportunity.
The multi-campus team with students from Penn State University Park, Penn State Harrisburg, and Penn State Berks — known as Resilient Resumes — aimed to use artificial intelligence (AI) to help college students build their résumés. The team's prototype consisted of a web application that allowed students to compile their own personal information concisely and receive real-time feedback on how to improve the data contained in their résumés. Acting as a support to Penn State Career Services, the app created a working résumé for the student to help them land an internship or position after graduation.
"When we initially came together, only two of us knew each other previously," Croteau recalled. "It was fun to go through all the goofy times of late nights, the hard times of buggy code, the exhilarating times of the few minutes before a presentation, and the celebration nights after everything was completed."
The day after the team presented their prototype in phase two of the Challenge, Croteau had a job interview at Lockheed Martin. Right before her last interview of the day with the hiring manager, she found out Resilient Resumes was among the top 10 Nittany AI Challenge teams.
"I was so pumped up from going to the Challenge competition and was able to translate that energy to the interview, discussing all the activities of the Challenge, including leading our team through the development cycle of planning a design, developing, and iterating on that process," she said.
At the Nittany AI Challenge Celebration Event on Sept. 10, 2019, Croteau and her team members were awarded $5,000 in the final round to continue working on their solution.
"It was so thrilling," she recalled. "The journey to the end of the Challenge was quite a rollercoaster of a ride. We had worked so hard together and bonded through the late nights coding and getting through winter break pulling all the final touches together. The relief of winning was a confirmation that all the hard work was worth it."
Croteau landed the job at Lockheed Martin and began her role as an autonomous/AI machine learning engineer upon receiving a bachelor of science in information sciences and technology from Penn State Berks in spring 2020.
The Challenge largely contributed to and opened the door to my career with Lockheed Martin.
"The Challenge gave me tangible experience I could relate to — the real-world nitty gritty of working as a team, solving a problem, overcoming hurdles, and understanding what AI does," she said. "At Lockheed Martin, new hires need to be able to understand what the mission is and have background knowledge that equips that understanding — and my participation in the Challenge showed my leadership and proved I had a working knowledge of AI. I honestly can say my experience with the Challenge largely contributed to and opened the door to my career with Lockheed Martin."
As an autonomous/AI machine learning engineer, Croteau is part of a team that is working to create a tool to apply AI/machine learning (ML) technology to assist operators in data analysis. She works in a full-stack capacity, dealing with all sides of software development, and has been training to learn the scrum master duties with the goal of taking that position on her team in late fall.
"Before the Challenge, I assumed AI was way above my realm of understanding," she said. "It was a bit of black-box magic, and I didn't see how it applied to my career path. Now, I have an understanding of AI that allows for me to not only help develop models and manage outputs from algorithms but speak to the value of AI/ML and how it can be applied."
As a Challenge finalist, Croteau has some valuable advice for students who are participating in the Challenge.
"Go into the Challenge with a full breadth of expectation that it will be hard work and you will be expected to or need to put in the extra time to improve your prototype or minimum viable product (MVP)," she said. "Be willing to struggle — there are several different avenues to solve a problem, so consider avenues from different perspectives. Don't wait until the last minute to submit anything, and have your MVP built a month before the submission date (because those bugs will come!). Take into account what you are learning and add those items to your résumé."
When it comes to participating in the Challenge and other extracurricular activities, Croteau says don't be afraid to try something new.
"Participation outside of the normal extra curriculars may seem a bit intimidating and yes, a lot more work," she said. "However, participating in this Challenge can do so much more than just give you something fun to do, it can help you build friendships for life and lead to a career you will thrive in."
The Nittany AI Challenge offers teams of students the chance to compete for awards by developing and presenting AI–based solutions to improve the world around us through the four AI for Good pillars: education, environment, health, and humanitarianism. Learn more about the Challenge or see the minimum viable products of the top 2021 teams and find out who wins by attending the AI for Good Expo.