---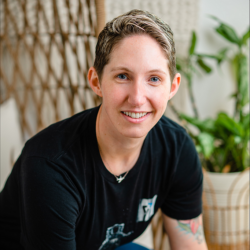 Join Samantha "Sam" Wheeler, Director of Alliances for AI at VAST Data, as she presents a vulnerable retelling of her unconventional path to AI and offers advice for aspiring technology and cross-domain professionals. She will share the challenges of her early adulthood navigating a traumatic brain injury during a time when the U.S. healthcare system had less protection and understanding than it does today. Sam will use her experience of seeking to understand during recovery, finding self-worth in every situation, creating unique networks, and having the audacity to navigate new paths to demonstrate that the only important step is the next step. The latter part of the talk will focus on Sam's experience within the technology industry itself both as a woman in a technical role and as business development leader navigating a hypergrowth market. The talk will also cover the outlook on how anyone can get involved with the many facets of AI's projected impact on our local and global ecosystems.
As the Director of Alliances for AI at VAST Data, Sam works to expand market awareness of the VAST Data Platform within the AI industry through strategic technology alliances, specifically NVIDIA. Prior to joining, she spent seven years working as a technical sales engineer at an HPC/AI system integrator, Microway, after transitioning her career from the restaurant industry. She received her associate in arts in psychology from Cape Cod Community College after suffering a traumatic brain injury during her freshman year at Drew University. Although her studies continued at other institutions over the years based on interest, she did not seek another degree or certification.
The AI Distinguished Speaker Series is supported by the following centers: AI4CI, AIMI, CAFÉ, CENSAI, CIE, COMPS, CSRAI, JEDI, Nittany AI, and Quantum.
Registration
Online registration is not currently available.