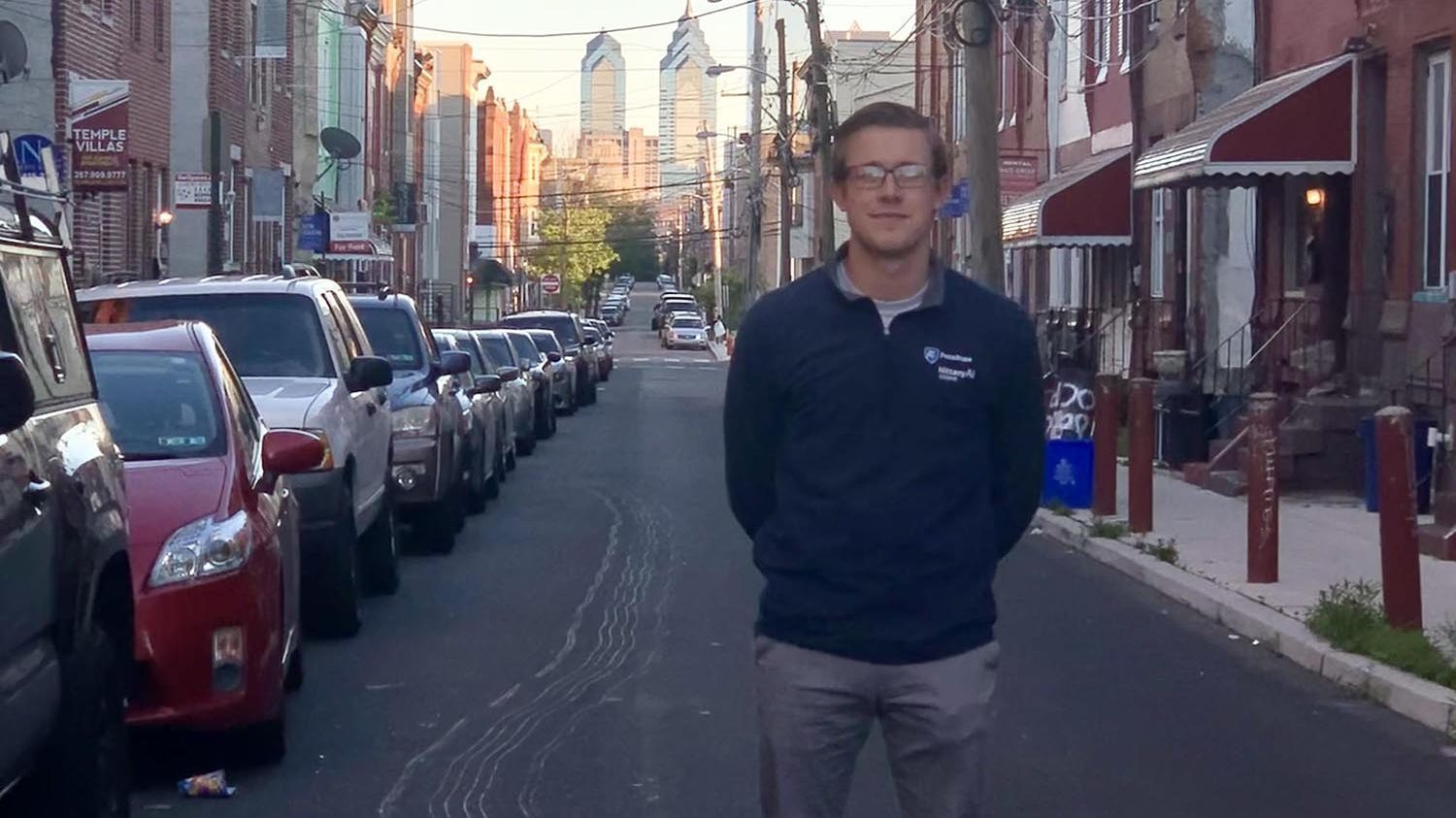 As a Penn State undergraduate student majoring in information sciences and technology, Joel Seidel was looking for a way to leverage his coding skills to earn a paycheck. While searching through Penn State's job portal, he came across a front-end developer position with Nittany AI Advance, a program of the Nittany AI Alliance.
Seidel landed the job and worked on three different projects throughout his time in the Advance program. His primary project that spanned two years was with the Office of Undergraduate Admissions, where he and his teammates created an artificial intelligence (AI) algorithm using optical character recognition to simplify the process of collecting self-reported academic records from students. He also assisted the team that built a system that streamlined the transfer credit review process.  
His second project was for the Office of Annual Giving, where he utilized his skills in user interface design and worked with stakeholders to produce an AI–powered search feature for their website.
"It was an amazing experience being able to see all of these projects full to completion," he said. "I was there when we workshopped the Office of Undergraduate Admissions project — we were writing stuff on Post-it notes, trying to figure out what we were going to do. We had this rough outline and a lot of big dreams and absolutely no idea how to accomplish them, so being able to see that all the way through and eventually taking over the project and leading the day-to-day was just fantastic."
It was his third project in the summer of 2020 — with the Southeastern Pennsylvania Transit Authority (SEPTA), the city of Philadelphia, and the Accenture Pennsylvania Public Sector Practice — that set the trajectory for his career.
Seidel and his teammates created an artificial intelligence model and a corresponding interactive map application that analyzes how COVID-19 is affecting the number of people who telework and the impact that will make on public transportation in Philadelphia.  
"We conceptualized the project in May and by August, we were able to present it to city and SEPTA leadership," he said. "Looking at it a year in the future, now, in retrospect, the data holds up pretty well. We were spot-on in terms of what the teleworking and industry situation looks like. It'll be interesting to see how it continues to hold up, but looking back, I feel good about the results and the application that we were able to produce for both the city and SEPTA."
After graduating in May 2021 from the College of Information Sciences and Technology, Seidel began his professional career as an advance application engineering analyst with Accenture in Philadelphia.
"The Nittany AI Alliance literally got me my career," he said. "I didn't have the grades; I didn't graduate with a GPA that hops off a page. The Alliance gave me an outlet to really prove my skills in a practical environment, which is really where I was able to excel at the University. Without the work that I did at the Alliance, without the opportunities that it provided me and students like me, I would not have had a résumé that would have gotten me in the door at Accenture."
Although students may be hesitant about getting involved with the Advance program, Seidel strongly encourages them to follow Nike's slogan and "Just Do It."
"Students may say 'I don't know much about AI, I'm not confident in my skills in software development,' but to them I say, 'You'll figure it out. You'll figure out a way to accomplish it, you'll learn what you need to learn, everything will be fine. And if you're not able to, that's why you have such a dynamic support system at the Alliance and at Penn State. Whatever you need, you'll figure it out.'"
After all, he was in the same boat.
"Before I started working with the Alliance, I had no idea what real AI was. I didn't know what it could be used for, I didn't know how to use it, I didn't know how to solve problems with it," he said. "Throughout my time working with the Alliance, really what I think I gained is a practical understanding of how AI drives value. It is not science fiction, it's not something that I need to be afraid of — in fact, it is a tool that can deliver practical business value and help organizations and people to solve complex, abstract problems using technology."
---
In the Nittany AI Advance program, participants work on AI for Good projects that address real-world issues in education, the environment, health, and humanitarianism, advancing their skills to a level that demands the attention of future employers. Penn State students interested in securing a future-ready status by leveraging experiential learning opportunities in AI are strongly encouraged to apply to the program.