AI for Good in Philadelphia Public Transit
The Nittany AI Alliance brought together industry, nonprofit, and academy partners to enable experiential learning in AI and machine learning for Penn State students on this AI for Good project in summer 2020.
Partners
Industry Partner: Accenture
Nonprofit Partner: Southeastern Pennsylvania Transportation Authority (SEPTA), City of Philadelphia
Faculty Partner: Dr. Mitra, College of Information Sciences and Technology
The more data an agency has, the better it can respond to the impact caused by COVID-19. A data-driven approach will help provide the City and SEPTA with scenarios based upon the estimates generated from the model. Our goal is to create a living model that can be updated as circumstances change, even after the project ends.
Problem Statement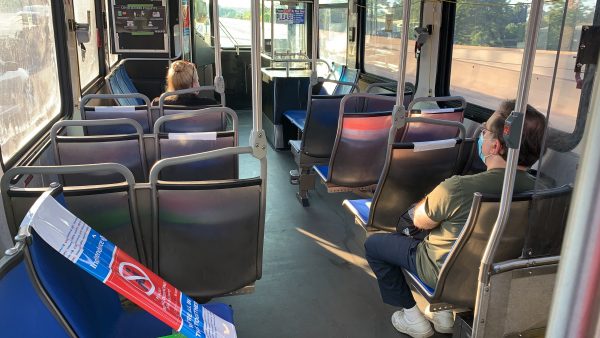 One of the many economic impact areas of the COVID-19 pandemic in Philadelphia is public transportation. Mandated and ongoing telework as well as social distancing requirements have drastically reduced SEPTA ridership, leading to nearly empty or empty buses and trains, which has real environmental and economic consequences.
SEPTA, along with Accenture and the City of Philadelphia, wanted to understand the changes in transport demand and, in turn, make adjustments to best supply transport to the citizens of Philadelphia while maintaining viable business practices throughout pandemic response and in the post-pandemic recovery.
The strength of the region's transit network will play a prominent role in improving equity outcomes in COVID-19 recovery. The Nittany AI Advance team is using AI to help us determine changing travel patterns so SEPTA can be more knowledgeable in addressing these unprecedented changes. We hope that AI can give us more nuanced forecasts of future trends and identify trends as they emerge.
Solution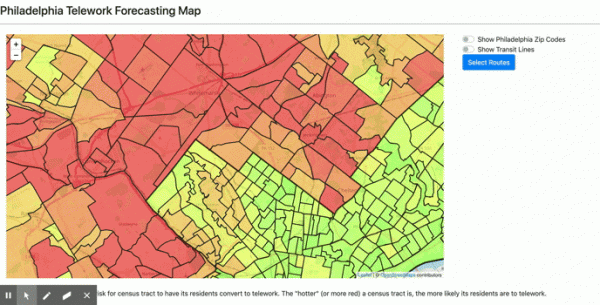 The Penn State student team, led by Kevin Brown at Accenture, created a telework forecasting map that uses industry, occupation, and the likelihood of telework, weighted via XGBoost regression model, to calculate the risk of an individual census tract being impacted by telework. In addition to the statistical model, a web-based visualization interface was created to view and explore the results of the future telework projections in a map of the city of Philadelphia and its suburbs. This visualization serves primarily as a heat map of the projections, with a tract being "hotter" representing an increased risk of telework from the residents within that tract. The front-end, visualization component contains telework risk forecasts for Philadelphia, Bucks, Montgomery, Delaware, and Chester counties. In order to assist in demonstrating the effect of teleworking on existing SEPTA services, all current (as of July 2020) SEPTA service lines are able to be overlaid on the heat map interface via GeoJSON visualization files from a SEPTA repository. 
Visit the Telework Forecasting Tool
This project is a great example of how public-private-plus utilities and universities combined with cutting-edge technology and data can have a lasting impact on the quality of life for all residents of Philadelphia. The city hopes this is the first of many opportunities like this to work with students of Penn State to help solve critical municipal challenges.
Student Team
Front-End Developer: Joel Seidel
Data Scientist: Victoria Lim
Data Scientist: Matt Hansen
Partner Lead: Kevin Brown, Accenture
This project afforded me the opportunity to experience a real-world consulting project, apply the skills I learned in the classroom, and hit the ground running as an intern. The experience got me in the door at Accenture and turned into a full-time job offer, which I likely would not have been considered for without being a part of the AI for Good project. I'm excited to know that next time I go down to Philadelphia and I take the train somewhere, I may have had a part in improving that service.
Additional Information and Resources
Penn State News: Students using AI to help reshape public transportation during COVID-19
Smart Cities Dive: PSU team maps Philadelphia's telework trends