Showcase How AI Is Advancing Your Business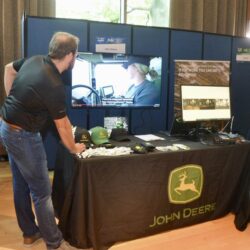 As the AI industry continues to grow at an unprecedented pace, it is essential for companies to stay ahead of the curve and showcase their innovative solutions. The AI for Good Expo provides an excellent opportunity for industry leaders to not only raise brand awareness but also strategically recruit top Penn State students and network with faculty in the AI field.  
AI for Good Expo sponsors have the opportunity to position themselves as AI thought leaders, demonstrate their commitment to social responsibility, and connect with key stakeholders who share a vision for a better world.  
$5,000 sponsorships are available now.
Sponsorship Benefits
Brand Recognition and Association as a Leader in AI 
Brand acknowledgment on Expo materials
Branded table to showcase your company's AI technology to all Expo attendees
Company logo placement on digital and printed signs at the Expo
Opportunity to provide a branded giveaway item to Expo attendees  
Show Your Commitment
Demonstrate your company's commitment to corporate social responsibility and AI for Good
Recruit Top Students in the AI Space at Penn State
Network with students from a variety of academic colleges, with diverse skill sets and perspectives, who are interested in working in the AI field
Participate as a reviewer for the top-10 minimal viable product pitches from students competing in the finals of the Nittany AI Challenge
Access exclusive interview rooms to meet with students at the Penn State Career Center, reserved the day following the AI for Good Expo
Connect with Faculty
Connect with leading Penn State faculty and exchange ideas for advancing future AI research
Sponsor Registration
Cost: $5,000 
Contact Andy Gatto, Strategic Partner Manager with Nittany AI Alliance, at jgg115@psu.edu for more information and to register your company.