Future-proof your education
The Nittany AI Associates program is looking for motivated and knowledgeable undergraduate Penn State students seeking experience in artificial intelligence, cloud computing, and machine learning. We hire students with a background in software development or data science to join our AI Associates team, working on collaborative projects during the spring and fall semesters. Under the directive to "move fast and break things," Associates can work on cutting-edge AI projects that address real-world issues, advancing their skills to a level that demands the attention of future employers.
Stand out amongst your peers
The Associates program is designed to instill you with a deep understanding of artificial intelligence as well as the skills to ethically leverage it to bring about positive change in our communities. The program builds on your classroom learning, helping you prepare for a rewarding summer internship, and ultimately, meaningful job placement.
Fast-track your career growth
Your experience as an AI Associate can put you on a path to your first AI–focused job and rapid career advancement by teaching you to:
tackle real-world problems with AI, machine learning, and cloud computing
create flexible, scalable AI solutions that address a strategic vision
commit to ethical considerations when developing AI tools
If you're interested in focused AI learning to prepare for a career in software development or data science, you're strongly encouraged to apply to the Nittany AI Associates program.
Now Hiring for 2020
The Nittany AI Associates program is currently accepting applications from talented undergraduate students interested in working part-time as data scientists or front-end developers during the fall 2020 semester. If you're ready to take your learning to the next level, we invite you to apply.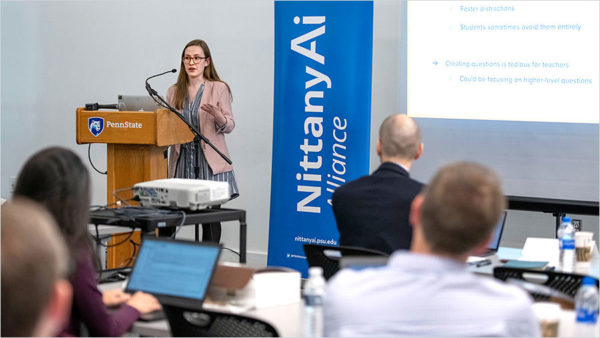 During my (Nittany AI Associates) internship, I was involved in the preparation and analysis of real data. Our team worked together to create a prototype to show how the admission process at Penn State can be improved for interested high school students … The experience shaped my opinion about what computer vision and natural language processing can and should offer to facilitate the education system. This internship was the right place for research and learning.