Phase Three Winners
Three teams have been awarded funding in the final phase of the Nittany AI Challenge.
iLenz— $15,000 Winner
iLenz is an AI–based tool that enables users to perform retinal imaging through mobile phones using a clip-on case. Through iLenz, the team aims to promote periodic eye-checks from the comfort of homes, providing users an advantage in early disease detection as a preventative approach.
Team Members:
Abhay Chamu Haridas

Akanksha Anand

Dominic Thomas

Namratha Sri Mateti

Parv Bhatt

Dr. Youakim Badr

SchizophrenAI — $5,000 Winner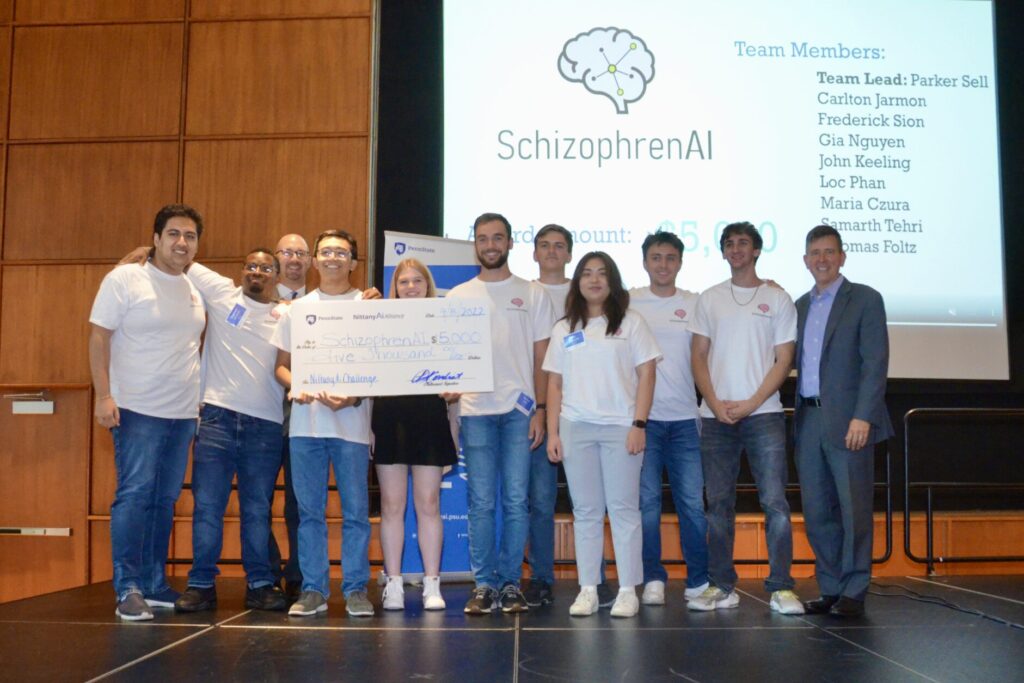 SchizophrenAI provides an anti-saccadic assessment which measures abnormality in eye movement, allowing trained and untrained doctors to better identify schizophrenic patients and connect them with the nearest mental health facilities.
Team Members:
Parker Sell

Maria Czura

Thomas Foltz

Carlton Jarmon

John Keeling

Gia Nguyen

Loc Phan

Frederick Sion

Samarth Tehri

LexNectare — $5,000 Winner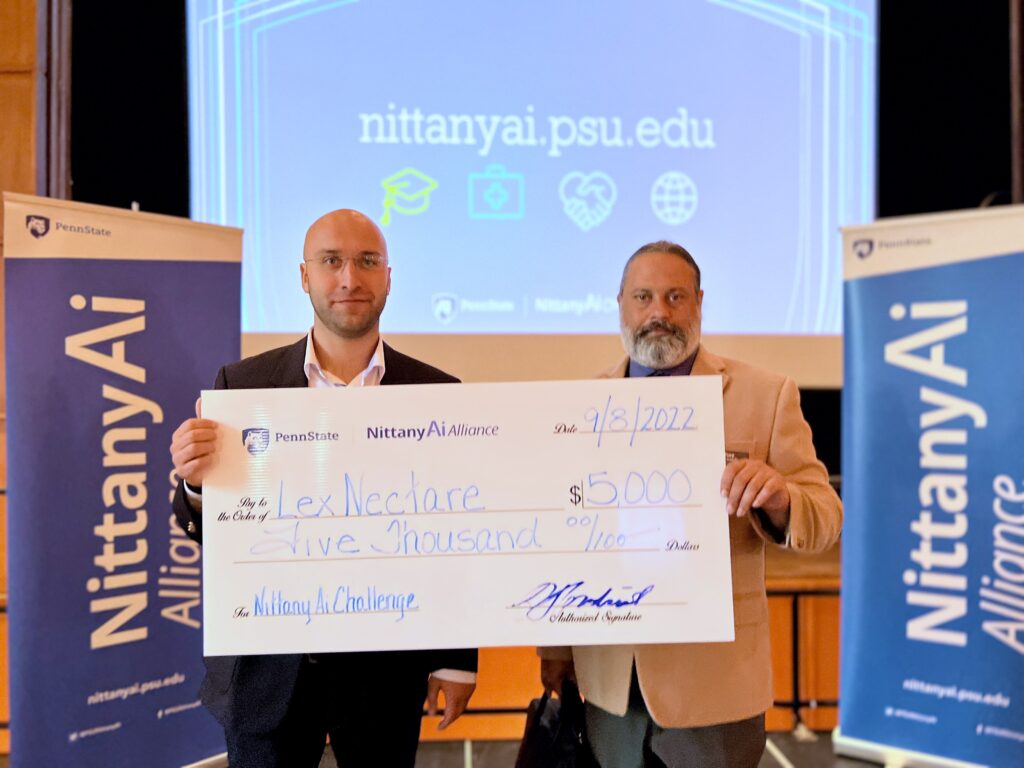 LexNectare aims to improve access to justice by using artificial intelligence and machine learning methods to create tools that guide people with legal problems to appropriate resources and assist with generating documents that can be taken to a lawyer or filed with a court.
Team Members:
Anthony Fernando
Scott Lovejoy

Jeremy A. Garcia

Lyubomir Avdzhiyski

Hon. Thomas Vanaskie

2022 Phase Two Winners
Ten teams have been awarded $1,500 and will move forward to compete in the Minimum Viable Product (MVP) Phase. MVP submissions are due August 11, 2022, and the winners will be announced on September 10 at the second annual AI for Good Expo.
AI Money Minder (formerly M&MH Team) — a fintech tool helping identify early-warning signs for individuals with serious mental illnesses
AquaSafeAI — monitors water points for water quantity and quality to determine when safe water is available
AudioHUD — providing a tool for the Deaf and Hard of Hearing community to enhance situational awareness
Career-Connect — a social network application focused on profile upskilling and connecting people
Have AI Heart — an app assisting in the prediction and prevention of heart disease
iLenz — an affordable tool providing AI–based, dilation-free home eye exams
LexNectare — a tool that helps guide attorneys providing pro-bono service through the legal elements of the claim
RetroFlux — an online note-sharing platform where students can edit notes in a real-time collaborative environment
SchizophrenAI — a mental health resource promoting awareness and accessibility of resources for serious mental health issues
WildAI (formerly Early Warning System for Wildlife) — a device using AI and sound recognition to tackle the problem of deforestation and poaching
2022 Phase One Winners
Twenty teams have been selected to move forward to compete in the Prototype Phase. Teams have submitted initial ideas to promote AI for Good through education, environment, health, and humanitarianism.
42MORO — Helping farmers struggling with crop loss in both open-field and greenhouse applications
AudioHUD — Providing a tool for the Deaf and Hard of Hearing community to enhance situational awareness
C0 — Helping university campuses monitor, predict, and reduce their carbon emissions
Career-Connect — a social network application focused on profile upskilling and connecting people
Early Warning System for Wildlife — a device using AI and sound recognition to tackle the problem of deforestation and poaching
Eleos — an interactive AI companion providing a healthy release for negative, pent-up emotions
Have AI Heart — an app assisting in the prediction and prevention of heart disease
Hello World — a browser tool helping visually-impaired individuals more fully interact with the online world
iLenz — an affordable tool providing AI-based, dilation-free home eye exams
LexNectare — a tool that helps guide attorneys providing pro-bono service through the legal elements of the claim
M&MH Team — a fintech tool helping identify early-warning signs for individuals with serious mental illnesses.
PEAR — a mobile application to support healthy eating by providing simple estimations of meal nutrition facts
Portal AI — a solution using blockchain and AI to track use of funds acquired through donations
RetroFlux — an online note-sharing platform where students can edit notes in a real-time collaborative environment
SafeStroll — a safety-focused app that identifies the safest possible walking route for users
SchizophrenAI — a mental health resource promoting awareness and accessibility of resources for serious mental health issues
Singularity — an AI–powered reconnaissance drone that provides law enforcement with critical, real-time information
SkaiVue — an AI–powered drone for surveying land development sites
Stellar AI — a tool helping job applicants identify the skills and experiences necessary to get the job of their dreams
SW Swift — a platform to optimize and maximize the efficiency of solar farms and wind turbines
Past Winners